Awards and Publications
"Golden Legacy" selected for Outdoor Photographer's "Modern Landscape Masters"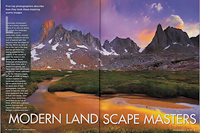 Golden Legacy, one of my favorite images from my Sierra collection, has been chosen as the cover spread for an article entitled "Modern Landscape Masters." Four other professional landscape photographers contributed to the article as well, including Art Wolfe, Joseph Rossbach, Michael Frye, and Rafael Rojas.
I captured Golden Legacy during a fantastic cross-country trip through the John Muir Wilderness. The region, known as Granite Park, is challenging to get to, but the stunning granite spires surrounding jewel-shaped tarns and waterfalls make the journey more than worth it.
You can read the full article here on the Outdoor Photography Magazine website.
---
"Crowning Splendor" Selected for Cover Shot, Outdoor Photographer, September 2010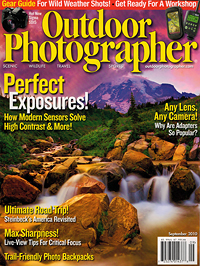 In July of 2010, Chris Robinson--editor of Outdoor Photographer magazine--emailed me to request a high-resolution copy of Crowning Splendor. He mentioned that it was for the cover, and that he needed it immediately.
When I received his email, I was standing on the shore of Lake Almanor, in northern California, almost 400 miles from my computer. And my high-res images.
Fortunately, my brother and his family were traveling through my home town that weekend. My sister-in-law is a professional wedding photographer, and very computer savvy, so she was able to locate and digitally email me a final copy of the image.
And so, with that hurdle cleared, the image made its way into the right hands, and then on to the cover!
---
"Isosceles Peak" Selected as Top 10 Winner in Canon's Photography in the Parks Contest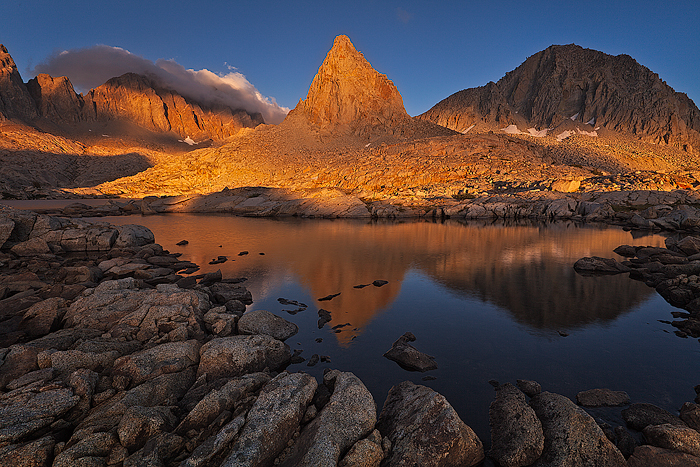 A famous Sierra icon, Isosceles Peak is one of several peaks that for the formidable Palisades group. It is best seen from the handful of small lakelets that sit at the base of the peak. This particular image was captured in late summer as the evening sun lit the granite giant while clouds darkened the neighboring peaks.
You don't have to look deep into my portfolio to see that I love the Sierras. In fact, traveling throughout the backcountry of King's Canyon National Park, and the wildernesses to the north and south, has been a yearly experience for me for the last 25 years. There are few places I enjoy more, however, than the basin below Isosceles, as it holds all of the characteristics quintessential to these beautiful mountains.
---
"Granite Garden" Named Finalist in Outdoor Photographer's Nature's Colors Competition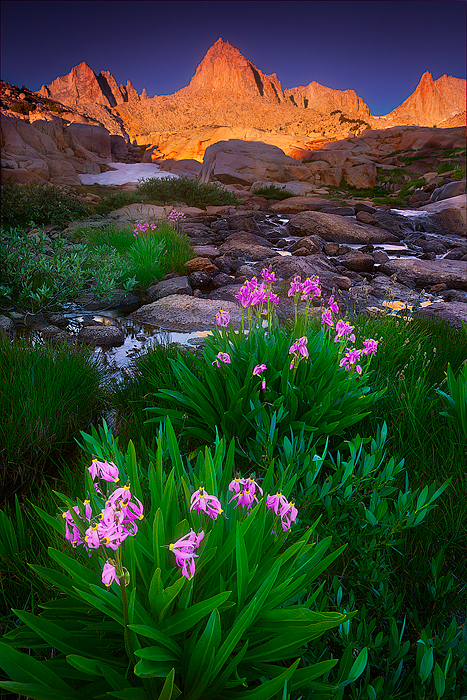 One of my favorite images from our recent Sierra travels, "Granite Garden", has been selected as a finalist in OP's 3rd Annual Nature's Colors Competition. To see the other great images in this contest, click here.
This image was captured off trail, in a lesser known area of the John Muir Wilderness. My wife and I were on the tail end of a fabulous week-long hike celebrating our 14th anniversary. Because the year had been atypically wet, we still found wonderful pockets of shooting star, green grasses, and willow all throughout the area, despite the fact that it was August.
The granite spires captured here are the boundary between Granite Park, and other basins farther west. During the summer they capture tremendous morning sunrise colors. Below these giant peaks, streamlets and tarns dot the landscape and provide perfect cool-tone contrast to the otherwise red granite. We spent the better part of a morning wandering down through these areas, pausing periodically to enjoy a quick snack and take in the pristine surroundings. For 3 days, we enjoyed this basin without seeing another person. It was an unforgettable anniversary experience!
It was during this same trip that I captured several of my most dramatic images to date. If you have a minute, check out my other images from this trip to Granite Park. The conditions were nearly perfect--especially the last evening in the Park--for truly dramatic photography.
---
"Crowning Splendor" Named Finalist in Outdoor Photographer's Great Outdoors Competition

OP has selected "Crowning Splendor" as a finalist in their Great Outdoors Photo Contest. You can see the other great images from the competition here.
This image was a challenge to capture. We were camping and hiking Mount Rainier National Park for almost a full week before the clouds actually parted enough one evening for some fantastic light. This particular stream has always interested me, in particular the way that the water and greenery lead the eye towards the mountain. I captured this image using a new technique I'm developing that combines multiple frames bracketed for exposure and focal points. This file is HUGE! You can literally count the petals on some of the flowers!
The golden light of the evening was a real plus, and was due to several clouds overhead that lit up at the time of capture. All in all, this was one of my favorite moments in the park!

---
"Winter's Warmth" Named Finalist in Outdoor Photographer's Favorite Places Competition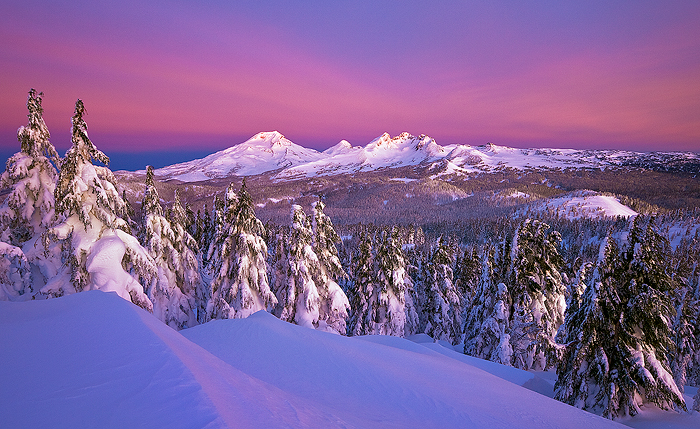 One of my favorite winter images, "Winter's Warmth", was recently chosen as a finalist in the OP "Your Favorite Places" competition. There were some fantastic images in this particular contest. You can see the rest of the finalists by visiting the contest page here.
This is my first award from such a well respected entity in the world of landscape photography, and is particularly exciting as I have been a fan of the magazine for a few years now. It looks like their online presence is taking off! Go OP!